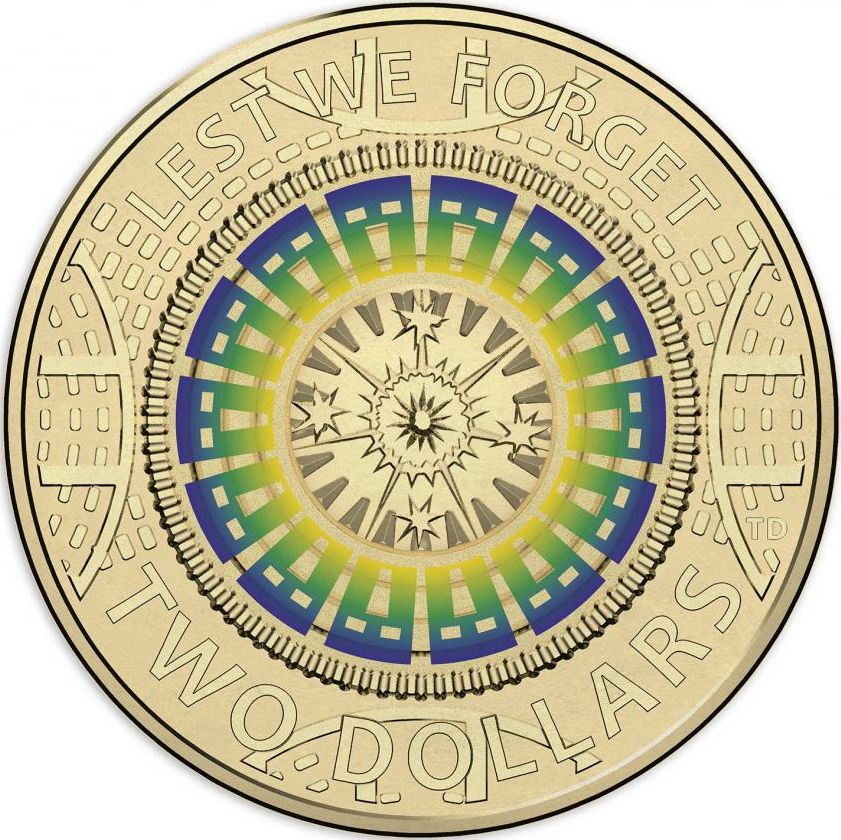 ANZAC Day 2017 and this year the Royal Australian Mint has released another coloured $2 coin "Lest We Forget" to remember the honour, bravery and sacrifice of those who served our country. Over 4 million of these coins have been sent into general circulation with a further 40,000 issued with a C mintmark in a collector card.
While the ANZAC story commemorates those tens of thousands of Australians who fought and died in World War I it's at the Australian War Memorial in Canberra where a national memorial sits honouring servicemen and women who participated, fought or died in all wars involving the Commonwealth of Australia.
The coin design features the mosaic from inside the dome of the Australian War Memorial's Hall of Memory where the Tomb of the Unknown Australian Soldier lies. A central circle depicts a representation of the ceiling inside the Hall of Remembrance surrounded by yellow, green, blue and indigo coloured stripes followed by a circle of raised beads and then the legends "LEST WE FORGET TWO DOLLARS" inside 4 lunes and an ornamental border of mosaic tiles. This design is by Tony Dean and bears his initials "TD".
This coin is part of the Mints ANZAC centenary coin program (2014-2018) and was unveiled by Defence Minister Marise Payne and Small Business Minister Michael McCormack last week.