The
Australian shilling
was first minted in 1910 and continued until it was last struck in 1963 when it was removed from circulation at the changeover to decimal currency in 1966. It was replaced with the 10c piece. It's been almost 50 years now since these coins circulated, be assured they are worth more than their 10 cent face value today.
The earlier issues from 1910 to 1944 contained 92.5% silver and can be found with the Coat of Arms reverse (up to 1936) and the ramshead design (post 1938). From 1946 they were debased to 50% silver still issued with the ramshead design by George Kruger Gray.
With all that said, what is my Australian shilling worth? Well it is always going to be worth the bullion or silver metal value which depends on the daily silver trading price. If you're lucky and your shilling has been well kept and hasn't been circulated or heavily worn then it may hold numismatic value beyond the silver worth.
The Bullion Silver Shilling
An early shilling (1910 to 1944 -termed "pre") contains 92.5% silver and 7.5% copper and should weigh 5.65g. It's actual silver weight is .1680tr oz. At the time of writing this article a "pre" Australian shilling is worth $4.62. Work out the value of those old shillings you have laying around on our Australian Silver Shilling Coin Value Calculator.
A "post" shilling is one minted in 1946 or later and contains 50% silver, 40% copper, 5% zinc and 5% nickel. These all have the bold ramshead reverse. You may have dug up some old silver shillings in the backyard or found some in the drawer or in the shed, you can determine their bullion worth on the Aussie Silver Bullion Coin Value Calculator. Today a post shilling is worth $2.50, a hefty premium over the 10c face value.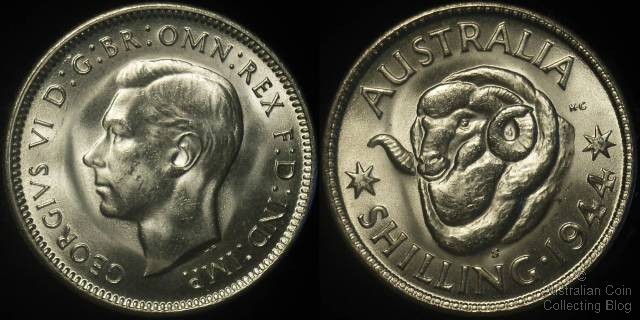 The Collector Shilling
The Australian shilling can often surpass the silver bullion worth and be collectable for it's numismatic value. This is all determined by the grade and the date. An unworn coin in "mint state" or the same condition it was in when it left the Mint can potentially be worth hundreds or thousands of dollars. Even a circulated or used coin can be worth more if it is a lower mintage year. You can get an idea about your shillings numismatic value by borrowing a coin book from your library or look at past sales results on eBay for coins of the same year and condition as your Australian shillings.